fr, 2.april 2004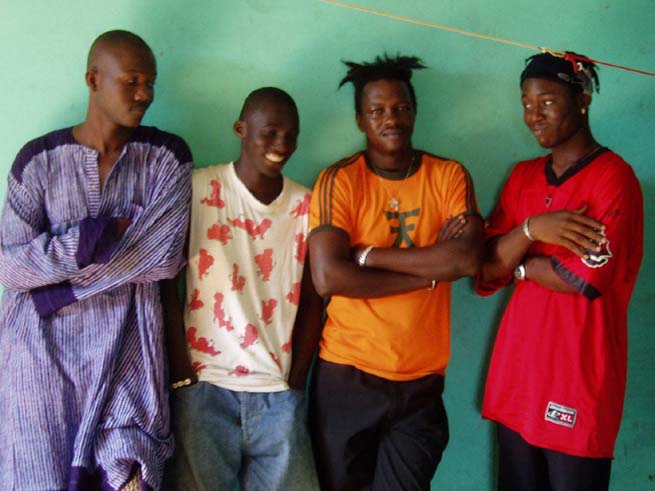 © M.Ambrogini
BA CISSOKO (Guinea/Conkari)
" two koras and a guitar bass for a kind of «over the top reggae rock» irradiated by three Guineans… Ba Cissoko and his fellow musicians extract a new breed of sound from their ancestral African harps, groovy and surprisingly urban like today's Guinea's new wave." Rémy Kolpa Kopoul / Radio Nova
Ba Cissoko - Kora & Vocals
Kourou Kouyaté - Bolon, Bass & Kora
Sékou Kouyaté - Electric Kora
Ibrahim Bah - Percussion

Ba Cissoko collects musicians from M'bady Kouyaté family, one of the great "Griot" of the Mandingo Kingdom. M'Bady initiated the 3 musicians to kora since their early childhood. Ba Cissoko was born in 1967 in Guinea Bissao, he's the son of Kandara Cissoko, one of the founders of the "Ballet Djoliba of Guinea".
In 1989 he takes part of the Festkora in Conakry and decides to live in Conakry to improve his kora playing with M'bady Kouyaté.
From 1993 to 1995, Ba and Kourou work together with the group Tamalalou , on a creation comissionned by the Nuits Metisses Festival (Marseille/France).
In 1998, the whole group is prented at the MASA of Abidjan and afterwards came to Marseille for a work session with Ray Lema.
In 1999 Ba Cissoko creates the trio with Sékou and Kourou, for the Festival du Théâtre des Réalités in Bamako.
Kourou Kouyaté, named «Kourou bass» as a nick name plays Bolon (Bass Kora) electric bass and Kora. As Soon as he heard the talking drum, he offers the audience a fantastic dance show. Sékou Kouyaté, only 17 years old, brings the traditionnals instruments towards new sounds. Playing with his brother Kourou on Bass or Bolon (Kora Bass) and with Ba Cissoko on kora and voice the young Sekou plays talking drum, balafon, djembe and/or kora. His electric kora sound amazes and seduces the audience at every single show. Ibrahim Bah, 18 years old, Conakry street child, spent his childhood, playing djembe on the beach of Conakry, he joined the group of Ba cissoko in 2001.
Most of the compositions of the group take their roots in Africa feeding themselves through various musical influences. They tell stories about the African daily life. The songs are generally in several languages : sousou, poular or malinke. Born griot, owner of the mandingo culture and tradition, Ba Cissoko is one of the most representative artist of the young generation of Guinean musicians.