03:00 p.m. @ Kleylehof

The International Nothing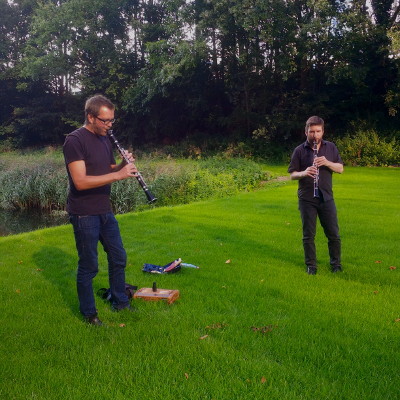 (© Seamus Cater)

Kai Fagaschinski | clarinet & composition
Michael Thieke | clarinet & composition

The International Nothing is a Berlin-based psycho-acoustic clarinet duo formed by Michael Thieke and Kai Fagaschinski in 2000. They collectively compose multilayered sound sculptures using multiphonics, beat frequencies and difference tones as an integral part of their language. Both musicians are well known as improvisers but in this project they develop and perform exclusively their own compositions.
Every four years the duo releases an album on the Japanese Ftarri Label. In 2018 they are presenting their fourth duo album In Doubt We Trust. While each of the previous releases consisted of several shorter pieces the duo is now going epic for the first time. The new album is made of a single work of 37 plus minutes. 2 1/2 years of deep sonic research in seclusion not only yielded a formal change, but also revealed new and yet unheard acoustic scenarios in slow pace and of fragile beauty.
The duo played concerts all over Europe, North and South America and East Asia.

Discography:
- Mainstream (Ftarri 2006)
- Less Action, Less Excitement, Less Everything (Ftarri 2010)
- The Dark Side Of Success (Ftarri 2014)
- The Power Of Negative Thinking (Monotype 2016) as The International Nothing (... and something)
- In Doubt We Trust (Ftarri 2018)

The International Nothing on Bandcamp



Dieter Kovačič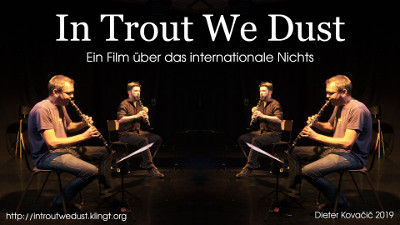 "In Trout We Dust" film presentation
Ein Film über das internationale Nichts

Tief einatmen. Dann geht es los. Immer wieder. Differenz und Wiederholung. Dieser, einer Werkreihe des österreichischen Komponisten Bernhard Lang entliehene, erste Zwischentitel des Filmes In Trout We Dust führt uns zu einem wesentlichen Thema des Duos The International Nothing und einer ganzen Musikszene, welche hier porträtiert wird.

Wie es in der Geschichte der beiden Klarinettisten Kai Fagaschinski und Michael Thieke darum geht, die Balance zwischen einem "Gruppensound" und Weiterentwicklung zu finden – also "zwischen Motörhead (Wiederholung) und Iron Maiden (Differenz)", wie Fagaschinski es erklärt –, so führen uns auch die Bilder, die zunächst länger in Bühnenräumen verharren, später hinaus in die Weite der Vorzimmer, Küchen, Bars und Straßen.

Die wesentliche Sache des Duos ist aber das fokussierte Arbeiten am Material. Das zunächst einmal horizontale Erkunden der (Zusammen-)Klänge, welches später einer kleinteiligen Anordnung zu einem vertikalen Ganzen weicht. Akribisch und in mikroskopischen Abschnitten wird hier nach Neuem geforscht, ohne dass das Neue zum Selbstzweck oder zum Heiligtum verkommt.

Ganz im Gegenteil. Mit Humor auf der Bühne sowie in der erarbeiteten Musik selbst begegnet man dem Verdacht im Elfenbeinturm zu sitzen. Man balanciert (auch hier) das Bild des "seriösen Künstlers" mit dem der Lebenslust aus und steht, obwohl der Rock hier nicht ins "rollen" kommt, ganz und gar im Widerspruch zum berühmten Satz des (ehemaligen) österreichischen Heimatpolitikers Andreas Khol: "Wer das Klarinetten spielen lernt, wird nicht drogensüchtig."

So kleinteilig wie die Musik will der 34minütige Film nicht arbeiten. Er gibt uns in kurzen Kapiteln einen ersten Eindruck vom Leben des Typus "Homo musicus experimentalis", stellt uns einige VeranstalterInnen vor, lässt sich das Duo kurz zu einem Quartett erweitern, um auch Außenansichten zu geben, und schließt mit dem Versuch einer Erklärung des Ausbalancierens von Freiheit der Kunst und ökonomischer Realität derselben.

Höchste Zeit, dass – nachdem mit dem Film (Untitled) 2009 das Thema Avantgarde-Musik in Hollywood angekommen ist – jemand auch dokumentiert, wie sich dieses Dasein wirklich anfühlt. (Christof Kurzmann)

In Trout We Dust I.T.W.D. at "Soundart 19"



ŽIGA KORITNIK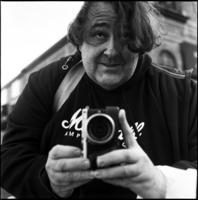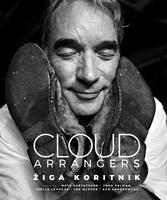 "To make a comparison, in essence Koritnik represents for jazz in Europe of the '90s into today what Roberto Masotti and Gérard Rouy had been in the '70s-80s: the eye that captured the spirit of an era. There is no higher compliment."
(Francesco Martinelli for NYC Jazz Records / february 2019)

"Žiga is a 'Muse-ician', one who make magic with the muses. With his mind's eye, he has the ability to move faster than the speed of light, to capture moments in time and share them with the world through his photographs. The camera in his hands transforms shadow and light from commonplace into truly extraordinary human experiences. He is an improviser, a chronicler of life in real time, a poet, a philosopher, a free spirit, a song in anticipation of being sung."
(Joe McPhee from the text in the book Cloud Arrangers)

Žiga Koritnik



EMMA FISCHER & TERRIE HESSELS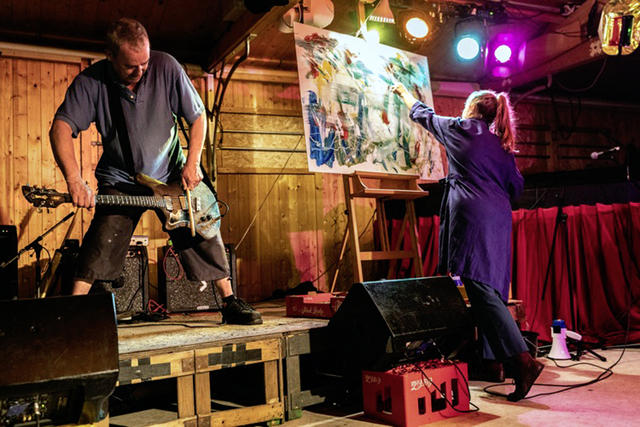 (© Mattis Cuypers)

Terrie Hessels - guitar
Emma Fischer - live painting

Terrie Ex is well known for his guitar work with The Ex, and for playing in improvising groups like Lean Left, and in duos with musicians like Han Bennink, Ab Baars, Paal Nilssen-Love, and Ken Vandermark. This is a rare opportunity to hear him play solo, made additionally unique because he'll be working in tandem with Emma Fischer, who creates all of the artwork and record covers for the Terp label. For this special event Emma will be painting in action as part of the performance, with visual work that has the improvised immediacy of Terrie's music- abstract images of fragmented blazing color, not unlike the sounds he spontaneously catapults from his guitar. (Terrie Hessels)





08:00 p.m. @ Jazzgalerie

JOKE LANZ & UTE WASSERMANN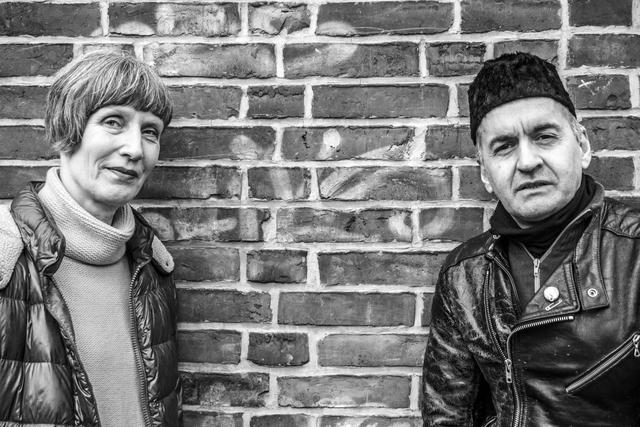 (© Laura Fusato)

Joke Lanz - turntables
Ute Wassermann - vocals

Turntablist Joke Lanz creates autonomous sound-cells that melt into a language free of any function. He combines ritual reductionism with anarchistic playfulness, atmospheric soundscapes with cut-up noise and physicalness with unpredictability: Massive scratches, walls of sound, grooves, loops, noises and voice modulations!
Ute Wassermann's vocal practice is so unique and specialized that it seems to challenge our ability to understand its sounds as vocal: multiphonic trills & yodels, loops of ululations and sudden percussive outburst. Her vocal sounds seem to be disconnected from the voice dissolving into the sounds of birds, of machines, of electronics, of fragmented language.
Their duo surprises with a mix of vocal, physical and electronic actions, shifts & cuts, super speedy turns, cartoon like fragments of speech, twisted melodies, stop & go grooves and loops.

Turntablist Joke Lanz, bekannt geworden insbesondere durch sein international vielbeachtetes Projekt "Sudden Infant" und geschätzt für seine Arbeiten im Grenzbereich zwischen Performance/Body Art bzw. improvisation/Noise, wurde in der Schweiz geboren und arbeitet inzwischen von Berlin aus in der ganzen Welt. Er kreiert über autonome Sound-Zellen eine persönliche von jeder Funktion losgelöste Sprache. Dabei kombiniert er rituellen Reduktionismus mit anarchistischer Verspieltheit, atmosphärische Landschaften mit fragmentarischen Klängen und Körperlichkeit mit Unvorhersehbarkeit: Scratches, Soundwände, Grooves, Loops, Noises und Vokalmodulationen.

Ute Wassermanns Stimme weist weit über den üblichen vokalen Klang hinaus: vielstimmige Trillerketten, Kehlbass-Drones, Jodler, Glottis-Tremoli, perkussive Loops. Ihr Gesang löst sich in einer Klangwelt von Vögeln, Insekten, Elektronik, Maschinen und fragmentierter Sprache auf. Als Vokalkünstlerin und Komponistin ist sie international für ihre unverkennbar eigene Klangsprache bekannt. Ihre Stimme maskiert sie zusätzlich mit Vogel- und Gaumenpfeifen. Sie singt durch Resonanz- und Lautsprecherobjekte, entwirft Klanginstallationen und performative Soloprojekte.

Das Duo überrascht mit einem rasanten Mix vokaler, physischer und elektronischer Aktionen, wie schnellen Schnitten, Wendungen und Überlagerungen, verdrehten Melodiefragmenten, cartoonhaften Sprachfetzen, Stop-and-go-Grooves & Loops.

(Text: Joke Lanz)

Lanz/Wassermann on Youtube Lanz/Wassermann on Soundcloud
Joke Lanz Ute Wassermann



DOES SOUND HAVE A SHADOW?



(© L Baumgartner)

Klaus Filip - ppooll
Christian Kobi - tenor & soprano sax
Jonas Kocher - accordion
Radu Malfatti - bass harmonica

does sound have a shadow? is not just another quartet, this is one of the most interesting new groups on this planet. far from moving along wellknown paths, this group is concentrating on a calm and quiet music, not trying to make sounds more interesting than they are by themselves. leaving the obvious virtuosity behind, they rather concentrate on the hidden virtuosity, turning every concert into an unheard experience. thank you for cleaning our ears! rm
(rm could be rosoe mitchell, but isn't)

klaus filip is a musician, sound-artist and programmer based in vienna. the main focus of his work are sinewaves, their representation in time and the thresholds of perception. as a sound artist he searches to cross sound and light. he runs a software project called ppooll that is widely used by improvising musicians all over the world. study of musicology and elektroacoustics in vienna. teaching position at the university of applied arts. co-curator of the reheat festival in nickelsdorf/austria.

Klaus Filip


christian kobi is a swiss musician and composer. his work explores the relationship between sound, silence and action in space. he studied music in basel, paris and zuerich, with a concentration in experimental music and improvisation. kobi performs and creates with various musicians, composers and artists in context of long term partnerships with artists such as phill niblock, jürg frey, taku sugimoto and keith rowe. since 2004 he curates the "zoom in" festival for improvised music at the minster of bern.

Christian Kobi


jonas kocher (*1977) is a sound artist and accordionist collaborating with personalities from various backgrounds and in numerous artistic and social contexts. he has a strong interest in process oriented works, unstable situations and improvisation. he regularly collaborates with musicians like joke lanz, axel dörner, jacques demierre, christian kesten, tomaz grom a.o. as a sound artist he has realized works that are situated between composed theatre, installation and concert pieces.

Jonas Kocher


radu malfatti is a composer and an improviser based in vienna. some decades ago, he was a freejazz-trombone player and later improviser in the "english school". after 35 - 40 years he got saturated and was looking for new ways to compose and improvise which led him to the wandelweiser group and made him change from trombone to bass-harmonica. played on almost every important festival around the world. made countless lps and cds. in 2001 he started his own cd-lable "b-boim records" (so far 39 cd releases).

Radu Malfatti
The Oral #zen | Radu Malfatti



PAUL LOVENS & FLORIAN STOFFNER



(© Rui Pinheiro)

Florian Stoffner - guitar
Paul Lovens - drums

Über dieses Duo ließe sich z.B. Folgendes sagen :
"Es gibt Zusammensetzungen, die das
Gepräge des Sonderbaren haben und
oft schon dadurch interessieren",
was zweifellos zutrifft, wenn auch das Zitat ursprünglich nicht eine Musik beschrieb. Es ist vielmehr die 1820 in Österreich vom herzoglichen Leibkoch F.G. Zenker verfasste Einleitung zum Rezept einer Brottorte ...

The following could e.g. be said about this duo:
"There are composites that bear
the imprint of the strange and
often already so arouse interest",
which applies, no doubt, but did originally not describe a kind of music. Written 1820 in Austria by a duke's personal cook, F.G.Zenker, it was the introduction to the recipe of a bread tart ...

Paul Lovens Florian Stoffner
The Oral #3 | Paul Lovens



PETER BRÖTZMANN



(© Frederike Helwig)

Die größten Musiker gelten manchmal bis zu einem gewissen Grad als technisch limitiert. Aber pure Technik ist keine Garantie für Qualität. Peter Brötzmann, der manchmal mit seinen technischen Mängeln kokettiert, hat aus seinen Grenzen immer Stärken gemacht: Seine ausdrucksstarke Rohheit, die frei von jeder Spur von Glätte oder Aufgesetztheit ist, hat ihn immer ausgezeichnet. Dies zeigt sich am deutlichsten in seiner Solokarriere, die von Solo (1976) bis zu Münster Bern (2015) sehr gut dokumentiert ist.

Peter Brötzmann ist einer von wenigen, die mit einer Solo-Performance ein Publikum begeistern können, und im Alter von 78 Jahren ist er auf dem Höhepunkt seiner Kunst. Inzwischen bekommt man vor allem bei seinem Soloauftritten eine komplette Werkschau geliefert: seinen Blues-Hintergrund, die wilden und wütenden Schreie, seinen brüllenden Stil, seine tiefe Musikalität, seine subtile Art, ältere Kompositionen aufzunehmen. Brötzmann verarbeitet oft fünf oder sechs Phrasen, auf die er sehr gekonnt zurückgreift und die er immer wieder interessant zu modulieren weiß, als ob eine idée fixe immer wieder an die Oberfläche kommt. Vor allem in seiner Soloarbeit scheint es, dass wir Brötzmann über die Musik nahe kommen können, er erforscht hier seine eigene Geschichte, in seinen Duos und Trios bekommt man nicht so einen unverstellten Blick auf die Anspielungen auf die Musik seiner Jugend und die großen Jazz- und Bluesmen der Vergangenheit.

Das Publikum bei den diesjährigen "Konfrontationen" darf sich auf ein großartiges Ereignis freuen. Und es wird sehen, dass Peter Brötzmann sehr wohl auch ein technisch exzellenter Musiker ist.

Peter Brötzmann



THE EX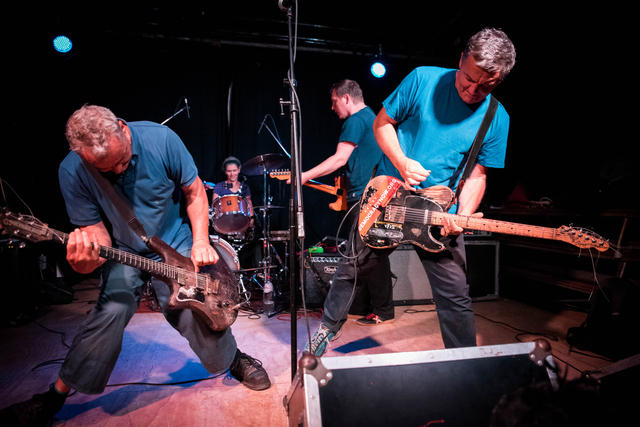 (© Susana Martins)

The adventurous, innovative Dutch band The Ex exists 40 years this year and is still going strong. New projects, new songs and new adventures. The Ex have defied categorisation ever since they started playing in 1979. Born out of the punk explosion, when anything and everything was possible, the band have still managed to retain both curiosity and passion for their music. Using guitars, bass, drums and voice as their starting point, The Ex have continued to musically explore undiscovered areas right up to the present day.
Already the early 1980s saw collaborations with jazz musicians and an Iraqi-Kurdish band. In the 90s the group found a myriad of partners from varied musical and non-musical backgrounds like Kamagurka, Tom Cora, Sonic Youth, Han Bennink, Jan Mulder and Shellac. In 2002 The Ex set up a lively musical exchange with Ethiopia, organised many projects over there and invited several Ethiopian musicians to Europe. Most striking was the collboration with the legendary saxophonist Getatchew Mekuria, which eventually led to two CD recordings and more than a hundred concerts.
The band also started organising the 'Ex Festivals', where they invited their favourite musicians. A mix of jazz improvisers, musicians from all over the world and local treasures they came across on tour. The last few years saw collaborations with Brass Unbound (Wolter Wierbos, Mats Gustafsson, Ken Vandermark and Roy Paci), Circus Debre Berhan and Fendika, both from Ethiopia, and many, many more.
After all these years, more than 28 albums and around 1900 concerts the band continues to work as they did in when they began, completely independent of record companies, managers or roadies. Because of this 'do it yourself' work ethic The Ex is still a great example for other forward-thinking bands and musicians.

The Ex



>>>> Konfrontationen 2019